One day in the life of Sara Sigmundsdottir, the sweetest crossfit elite athlete, workouts, life in the USA, meals, and other interesting topics
As per the amazing feedback we received on our article on Rich Froning's.
We now write and review in the same style, a day in the life of Sara Sigmundsdottir. One of the top and sweetest female athletes in the Crossfit Games history.
Also, she has never been so ready to win the games, even with her recent broke rib injury and recovery. 
She is BACK and on the TOP (she made some pretty decent appearance on some sanctional events and has published a documentary over her recovery): Persevarance on Youtube (parts 1 to 7).
We will give you a hint, if you still don't have a favorite Crossfit female athlete, Sara is one of the best candidates for you to follow and cheer up to!
Ragnheiður Sara Sigmundsdottir was born in Reykjanesbær (Keflavík), Iceland (same as Katrin and Annie, more details about the crossfit icelandic girls below) in September 12, 1992.
Sara is well known by taking 3rd place in the Crossfit games in 2015 and 2016.
She also incredibly took 1st place in the Crossfit games open in 2017. And she has been within the TOP 3 female athletes from Iceland (as is part of the famous and amazing "dottirs" family), which has even now created their own Crossfit benchmark workout.
Additionally, she also represented Iceland at the 2015 World Weightlifting Championships in the 75 kg category.
Max Reps Benchmarks:
Snatch: 95 kg
Clean and Jerk: 112.5 kg
Deadlift: 165 kg
Back Squat: 140 kg
Sara Sigmundsdottir's WODs (Workouts for some of her days made public):
Sara takes pride on doing her own programming, and she is sure she is doing it right, she has never been in so good shape (besides the injury she suffered), she has never been better prepared for the Crossfit games, or closer to her main goal, become the Fittest Woman On Earth!
From times to times and in a few interviews she gives us some glimpses (also in her instagram account)of how her training sessions are like.
WOD 1A + 1B (from One day at Sara's video):
Warm up – Hips Stretching only followed by rowing or bike,  
Start with the bike, 5 sets: 3 min easy, 2 min moderate, 1 min fast, 30 sec rest,  
with VEST on 21-15-9 calorie row and 42-30-18 chest to bar (pull up),  
small break by doing 4-5-6-6-5-4 strict handstand push ups
3 rounds for time, 27 cal row, 21 wall balls 25 pounds, 9 parallete HTPU (that parallel support, similar to the ones we practice dips)
WOD 3 Snatch Waves 145 155 160 165 170 170 175 180 185 190 (lbs),
One arm high pull and then push press dumbbell (pretty big dumbbell, probably 15 kg++)
Xxx single and heavy back squats 80-95% – I hate put on weights on bars, but she takes advantage of the hateful moment to build in muscles and morale by doing some triceps and biceps extra reps coz you do it every minute of the day anyway
5 rounds , 50 ft handstand walk,  30 double unders, 15 toes to bar
WOD 4: sprint swim gun course, sprint, dive, swim, bar muscle up and shoot
"Legs are life"
8 rounds of :
20 KB Squats
30 Air squats
400m run -rest 1 min
KETTLEBELL HELL
4 Rounds for increasing load:
10 Double KB Clean
10m Double KB FR Carry
10 Double KB STOH
10m Double KB FR Carry
10 Double KB FR Lunges
10m Double KB FR Carry
10 Double KB FR Squat
REST 3 minutes b/t rounds
IRON MIND WOD – Breaking your own mind, knowing your body limits, preparing to the extreme: 
1000 Burpees for time: Sara's time = 83 minutes 40 seconds
Sara uses this workout to know how her body and mind reacts to supra extreme conditions. "There is absolutely no skill involved whatsoever, no equipment needed and it is just you against you. It isn't pretty and won't make a flashy instagram post, but IF you complete it, you will become a stronger person mentally."
Specially when you never know what Dave will make you go through in the games… Sara is now an athlete that knows it takes her 83:40 to do 1000 Burpees, and she understands what that feels like. So when they crop up in another form in her next WOD, they won't look at daunting as before, and mentally she can readjust herself to complete them. – https://www.boxrox.com/sara-sigmundsdottir-lessons/
What does Sara Sigmundsdottir eats (we sorted out at least partially her meal plan, and details on her diet).
From One day at Sara's Life video:
Breakfast – apple cider vinegar + protein shake

"If could eat anything unhealthy – pancakes with loads of butter and syrup, and salt and really crispy bacon" (last time she had that was about 5-6 years ago).
My Cereal, my carbs 10 g oatmeal,  15 g special k?
Dinner: Ceviche, only sea food that I eat
Night Snack: Apple Stamina before bed
While she shows a good plate full of vegetables and prepare a protein shake

PERSEVERANCE

Breakfast 35g, oatmeal, granola, choco pownder (persevrance 2) + banana 

Train, eat a lil bitm nap, lunch, train again, 15 min break, go bike

Sara Pancakes: 
1 banana, 30 g gluten free oatmeal, Cinnamon, 130 g eggwhites, 1 whole egg

"Old fashion oats, coz they are sooo much better" <3 

Womenshealthmag – https://www.womenshealthmag.com/uk/fitness/a707956/sara-sigmundsdottir-diet/

Hard days = 3000 calories…

Easy days = 2600 

On Training Day
TOTAL Macros: Carbs 400 g – Fat 85 g – Protein 160 g
BREAKFAST: 130g egg white and 1 egg with spinach and bell peppers and a banana, blueberry, strawberry, fresh date, hazelnut and homemade cashew milk fruit bowl.
PRE-WORKOU: A cup of coffee
POST-WORKOUT: A plant protein, frozen banana, peanut butter and water smoothie.
LUNCH: 30g lentils with rice, chicken and vegetables.
DINNER: 30g lentils with rice, chicken and vegetables.
POST-DINNER: Vegan protein bar and green grapes.
Top Tip: "Start the day on the right foot and stay hydrated. When I wake, I drink half a litre of water and take a ginger and apple cider vinegar shot. I also make sure I drink 4 litres of water every day"
On Rest days:
TOTAL Macros: Carbs 325 g – Fat 73 g – Protein 160 g 
BREAKFAST: 130g egg white and 1 egg with spinach and bell peppers and a banana, blueberry, strawberry, fresh date, hazelnut and homemade cashew milk fruit bowl.
LUNCH: 30g lentils with rice, chicken and vegetables
DINNER: 30g lentils with rice, chicken and vegetables.
Top Tip: "Let your body rest. I get up between 8am and 9am, depending on when I fall asleep, but I always try to get more than seven hours of sleep."
One day in the life of Sara Sigmundsdottir (video summary):
We summarized a bit of the video published in Aug 1, 2017 by the Crossfit Mayhem https://www.youtube.com/watch?v=rMd13SGIhZ4&t=13s
The video starts showing Sara waking up at 8:00 in a beautiful house, with icelandic flag on the porch, and showing off running shoes by Nike (she is actually the Nike Metcon 4 ambassador), also with icelandic colors.
Hard to miss is that they have a full gym equipment in the garage.
Conditioning WOD from Chris Hinshaw (http://aerobiccapacity.com/) = Bike or rowing, followed by a Crossfit workout after that.
"I love waking up to doing this, it is so hard to start with crossfit coz your heart beat goes so high, so it is good to start easy."
Sara starts by taking notes on her journal that she claims to be her Crossfit secret.
WOD 1A+ 1B, by Sara's one day (above).
Music advice, techno music for general workout, gangster rap or classic rock for lifting
"I am programming for myself, maybe it is something I do a bit too much…"
"See, If I fail, I am just failing myself instead of disappoint somebody else… also I know my body the best, and I hate when someone is just trying to control me "
She has her breakfast (as per above).
11:15 drive to Rich Froning's – Short interview with Sara on Froning's way (that will make you fall in love with her…)
Favourite color: gold
Favourite number: 12
Favourite shape – heart, oh no, that is not my favourite – DIAMOND
Fav actor Christian Bale
Fav Actress: Nicole Kidman
Favourite movement in crossfit – any movement at all, ring muscle up, snatchs, pretty much everything, except for running
Wanna have kids eventually? I am going to have like SIX kids!  We're gonna be like a BIG family
If you could have an extra body part, which one would it be? An extra EYE!
Rude people, I hate people who think they are better than others, that makes me really annoyed.
"I love lawn mowers, we don't have lawn mowers (in Iceland), lawn mowers are LIFE"
WOD 3 (above) 
Sara takes a break to finish her interview question, such lovely girl! 
Fav movie white chicks and dumb and dumber, and I really want the VAN, and I giant whale, that would be pretty cool, I would say a whale is my spirit animal
Hermana & Hermano (Angelo DiCicco)
16:30, arrive Rich Froning Sr's house, sprint swim gun course, sprint, dive, swim, bar muscle up and shoot (WOD 4)
18:00 arriving home
Snack- > Cook, train a lil bit and have dinner -> Dinner – > Night Snack
Some picture gallery:
Sara, beautifully on the podium on the Crossfit games, in 3rd place. Besides Katrin and Tia Claire.
Perseverance and Motivation:
I just imagine Sam Briggs next to me, we are going head to head, and whoever wins is the Fittest Woman on Earth… Always when I want to give up I think about that…

"Sleeping is my priority now! (I used to never sleep but now I am smart)"

"I tried to get at least 8 hours sleep at night and I try to nap for 15-20 minutes everyday"

Nap or not nap, laying down, something over my head, and just not thinking about crossfit, which is very hard!"
SUPPLEMENTS used by Sara Sigmundsdottir
SCITEC WOD CRUSHER MUSCLE FACTOR: Forskolin and HMB
HMB-Ca (Calcium Beta-Hydroxy Beta-Methylbutyrate) Monohydrate    3570 mg    †
providing pure HMB (Beta-Hydroxy Beta-Methylbutyrate)    3000 mg    †
Coleus forskohlii extract (standardized for 10% Forskolin)    250 mg 
If you don't know yet (but you should) the dream woman's icelandic team are (the other 2 most famous ones besides Sara): Katrin Davidsdottir – Katrín Tanja Davíðsdóttir (in icelandic letters) and Annie Thorisdottir – Anníe Mist Þórisdóttir (in icelandic letters).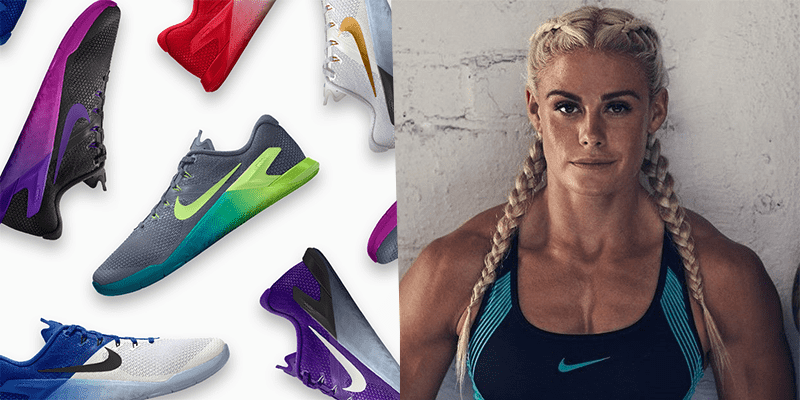 Last but not least… Sara we love you, we can't wait to meet you, if you are ver in Bulgaria, come to us, we will cook you some yummy cheat meal!